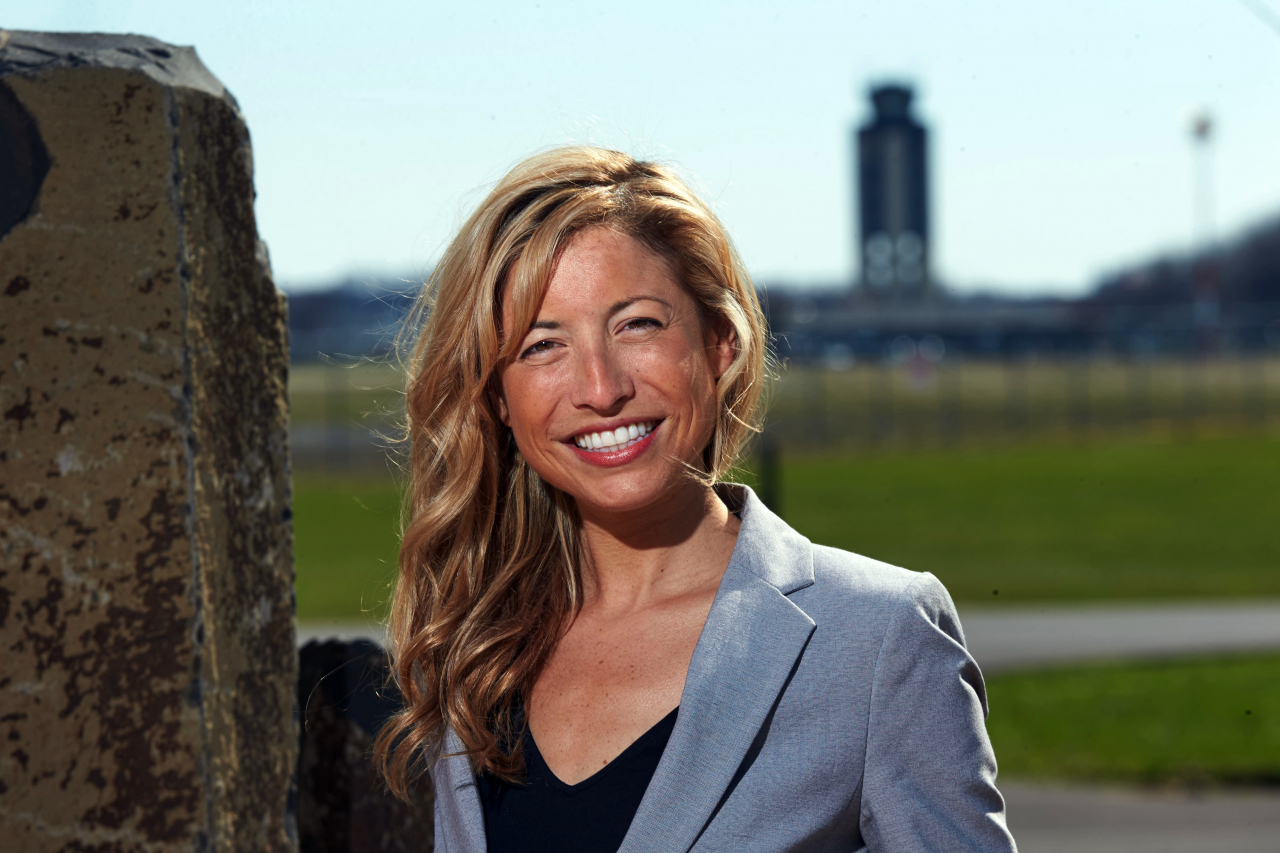 Carly Shannon is a Director for C&S Companies where she has worked for nearly a decade. Carly leads the company's aviation sustainability and resilience practice. She is an Envision Sustainability Professional (ENV SP) and also a LEED Accredited Professional with specialization in building design and construction (LEED AP BD+C). Carly holds a bachelor's degree in Environmental Geoscience and a master's degree in Urban and Regional Planning with a concentration in sustainability. She is originally from Syracuse, New York but now lives in Los Angeles, California.
ISI had an opportunity to connect with Carly to learn more about her work and experience using Envision.
Institute for Sustainable Infrastructure (ISI): Please tell us about yourself and what you enjoy most about your career.
Carly Shannon (CS): Although I'm based on the West Coast, I have the opportunity to work with airport clients across the country on everything from sustainability planning and strategy development to integration into design and construction, and even maintenance and operations. Every project I do is different from the last, which keeps me enthralled with the work. I also participate in several industry organizations including the Transportation Research Board (TRB), serving as co-chair of the Aviation Climate Change and Sustainability Sub-Committee, and Airports Council International – North America, serving on their Sustainability Integration Advisory Council that aims to bridge the various disciplines of an airport to identify collaborative solutions. Internally at C&S, I am working with my teammates to propel our own commitment to sustainability. Recently, we committed to purchasing carbon offsets for all air travel through The Good Traveler Program and have made a major investment in professional development focused on sustainability. For example, we have held in-person training sessions to help employees receive their Envision Sustainability Professional credential.
Professional Experience
ISI: What drew you to your field of work?
CS: A general passion for the environment, perhaps from growing up with the Adirondack Mountains in close range. My parents brought us on many camping trips as kids and I always felt connected to our surroundings. Once I learned more about sustainability and how this could be applied to all facets of our society and economy, I was hooked.
ISI: What has been your biggest career challenge?
CS: Saying "no". Sustainability presents so many opportunities and there are always new areas to explore. Obviously, it's not quite sustainable to do everything!
ISI: What has been your proudest career moment to-date?
CS: I've had the pleasure of celebrating many successes at C&S and with our clients. However, I feel most proud when I walk out of a productive sustainability charrette or workshop after engaging a range of people from different disciplines and perhaps some "non-believers" to embrace sustainability for what it really is—whole-systems, balanced thinking and strategically approaching projects to avoid missed opportunities.
Envision Experience
ISI: How did you first learn about Envision?
CS: I was fortunate to have a very devoted colleague at C&S introduce me to the Envision framework and rating system years ago. He was aware of my passion for sustainability and had come across the framework thanks to his role leading our civil engineering practice. I was immediately drawn to Envision thanks to its holistic approach to sustainability and resilience. It also came at a perfect time when many of our clients were seeking guidance for infrastructure projects to fill the void left by LEED. After learning about Envision, I subsequently decided to pursue my ENV SP credential.
ISI: How are you using Envision? / How is your organization using Envision?
CS: How aren't we?! Initially, I used Envision specifically for projects with the first one being the T.F. Green Airport Runway 5 Extension that achieved Envision Gold in 2016. I was the Envision administrator and sustainability coordinator for the project and it was an excellent experience. Since then, we've worked with a number of airports in different regions to pursue verification (including the first five airfield projects). Simultaneously, we are collaborating with airports to integrate Envision and sustainability into decision-making, planning, and airport-wide guidance for development and improvements, among other activities.
ISI: You mentioned one project in particular – the T.F. Green Airport Runway 5 Extension in Providence, Rhode Island. Can you share some highlights from another Envision project to show how you're putting your ENV SP credential to use?
CS: Absolutely! I recently celebrated an exciting milestone that I'm happy to share. A couple of years ago, we worked with the Wayne County Airport Authority to pursue Envision verification for one of their major runway reconstruction projects at Detroit Metro Airport (DTW). It was an incredibly fulfilling process thanks to the Airport's commitment to sustainability. We received Envision Silver on that project, but the rating system presented much more value than simply demonstrating leadership. It helped us maintain commitment to the sustainability integration from start to finish, serving as a beacon throughout the process. When we kicked off another runway reconstruction – this time in a more central location at the Airport and with numerous complexities – we sought to not just replicate successful measures from the past project but elevate our game. This involved robust efforts by the entire team and, just last month, we proudly announced our Envision Gold award for the Reconstruction of Runway 3L/21 R and Associated Taxiways project at DTW.
ISI: What does sustainable infrastructure mean to you?
CS: In addition to much of what I've already expressed, sustainability means adding value while balancing economic, operational, environmental, and social priorities; and ensuring seamless integration with the surrounding systems.
Fun Facts
ISI: What are some of your favorite hobbies and interests?
CS: Although I don't do any of them enough, I love camping, hiking, and paddle boarding. Southern California is a great spot for all of the above!
ISI: What is something people would be surprised to know about you?
CS: I completely fell into the aviation world while looking for work in sustainability, and – like many others with similar experiences – have never looked back.
https://sustainableinfrastructure.org/wp-content/uploads/2019/12/Shannon-Carly-2.jpg
3388
5082
Tatyana Nagornaya
https://sustainableinfrastructure.org/wp-content/uploads/2023/01/ISI-for-web.png
Tatyana Nagornaya
2019-12-09 13:49:16
2023-04-13 08:23:51
ENV SP Spotlight: Carly Shannon of C&S Companies