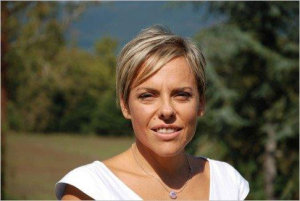 ENV SP Spotlight: Nicoletta Antonias of Italferr S.p.A
For this month's ENV SP Spotlight, we are delighted to feature an Envision Sustainability Professional in Italy: Nicoletta Antonias. (Italian translation to follow.)
Mrs. Antonias is the focal point for Innovation and Sustainability for Italferr S.p.A., the engineering company belonging to Gruppo FS (Ferrovie dello Stato), the Italian state railway company. Italferr is responsible for the construction of all high-speed rail in Italy.
Mrs. Antonias has more than 15 years' experience in the development and application of environmental management systems and environmental monitoring, acquired in the construction of railway infrastructure. Her role is crucial in defining and developing policies, guidelines, methodologies, and operating models for the correct implementation of innovative initiatives, and the development and application of sustainability systems, frameworks and methodologies such as LEED, Envision, Life Cycle Assessment (LCA), and carbon footprint. Mrs. Antonias studies and develops new methodologies aimed at integrating sustainability into the design of infrastructure, and she is engaged in research and development for innovative solutions by collaborating with universities, authorities, startups, and other companies that focus on open innovation—a more distributed, participatory and decentralized approach to innovation. 
ISI connected with Nicoletta to learn more about her work and experience using Envision.
Institute for Sustainable Infrastructure (ISI): What drew you to your field of work? 
Nicoletta Antonias (NA): Driven by an intuition that it would become increasingly necessary to have specialized skills for environmental protection, I chose to specialize in the field of environmental engineering.  My sensitivity and conviction around sustainable development reinforced my commitment that each of us can contribute, guaranteeing a better planet for future generations. 
In facing global challenges, I believe it is necessary to create a vision for the future that focuses on sustainability. I believe sustainability is the engine and key driver, a way of designing and building modern, efficient infrastructural networks. 
ISI: What has been your biggest career challenge, thus far?
NA: Understanding the strategic importance of sustainability to promote a new engineering model has been my biggest career challenge. I feel highly satisfied helping other companies of the Gruppo Ferrovie dello Stato Italiane and other construction companies develop, propose, and realize projects that contribute to the sustainable development of cities and territories. 
ISI: What has been your proudest career moment? 
NA: Becoming recognized as a reference point for Italferr and Gruppo FS for sustainability issues. I feel part of a change movement.  I am also proud of helping Gruppo FS become widely known for Italian excellence in sustainable mobility.
ISI: How did you first learn about Envision?
NA: I heard about Envision for the first time while participating in an international fair on the circular economy and sustainable development. I knew from that moment on that it was a perfect fit for me, and I'm excited about using it to enhance sustainability.
ISI: Why did you decide to pursue an Envision credential? 
NA: Italferr's expertise and experience in the design of sustainable works has led to the identification of the Envision framework as a useful tool that strengthens the company's commitment to finding effective designs, sustainable solutions, and holistic approaches to infrastructure design and management. We have developed, in collaboration with ICMQ S.p.A., the first guideline for the application of the Envision protocol to railway infrastructure that has been validated by the Institute for Sustainable Infrastructure. This guideline became a point of reference on a national and international level for that specific sector. The guideline is adapted to the Italian regulatory environment and the railway sector. I became an Envision Sustainable Professional because I believe in the application of Envision as a means to enhance sustainable-design choices. I also enjoy identifying new spaces where a resilient-engineering model can be implemented. 
ISI: How is your organization using Envision? 
NA: My organization is using Envision to evaluate the sustainability of a specific infrastructural project and to objectively outline the benefits related to the realization of that work. 
ISI: How are you putting your ENV SP credential to use?
NA: Envision helps me communicate objectively, clearly, and comprehensively, so that a territory or community fully understands how a specific transport infrastructure project will be more sustainable. I am also using the ENV SP credential for submitting projects to the verification body.
ISI: What does sustainable infrastructure mean to you?
NA: For me, sustainable infrastructure identifies the RIGHT project. It is 'right' because it considers the needs of the community and because it fits better into the regional context.
(In Italian)
ENV SP Spotlight: Nicoletta Antonias of Italferr S.p.A
Per lo Spotlight ENV SP di questo mese, siamo lieti di presentare un Envision Sustainability Professional in Italia: Nicoletta Antonias.
L'ing. Antonias è il riferimento per l'Innovazione e la Sostenibilità di Italferr S.p.A., la società di ingegneria del Gruppo FS (Ferrovie dello Stato Italiane). Italferr cura la progettazione e la fase di realizzazione delle opere infrastrutturali, in Italia ed all'estero. Oltre 30 anni di esperienza nei grandi progetti infrastrutturali per il settore ferroviario convenzionale e per quello ad Alta Velocità, nel trasporto metropolitano e stradale, nella progettazione di ponti, porti e stazioni.
L'ing. Antonias ha oltre 15 anni di esperienza nel campo dell'ingegneria ambientale, nello sviluppo e nell'applicazione di sistemi di gestione ambientale e monitoraggio per la fase di realizzazione di infrastrutture di trasporto. Il suo ruolo è cruciale nella definizione e nella diffusione di politiche, linee guida, metodologie e protocolli di sostenibilità (LEED, Envision, Life Cycle Assessment, impronta di carbonio). L'ing. Antonias studia e sviluppa nuove metodologie volte a integrare la sostenibilità nella progettazione e realizzazione delle infrastrutture ed è impegnata nella ricerca e sviluppo di soluzioni innovative in collaborazione con università, enti, start-up e altre società attive nell'open innovation, valido approccio di cooperazione sui temi dell'innovazione.
ISI si è rivolto a Nicoletta per saperne di più sul suo lavoro e sulla sua esperienza in relazione a Envision.
ISI: Cosa ti ha spinto a operare nel tuo ambito lavorativo?
Nicoletta Antonias (NA): Spinta dall'intuizione che sarebbe diventato sempre più necessario disporre di competenze specialistiche per la tutela ambientale, ho scelto di specializzarmi nel campo dell'ingegneria ambientale. La mia sensibilità ed attenzione ai temi dello sviluppo sostenibile hanno rafforzato la consapevolezza che ciascuno di noi può fornire un contributo concreto per disegnare un pianeta migliore per le generazioni future.
Nell'affrontare le sfide a livello globale, ritengo sia necessario creare una visione per il futuro incentrata sulla sostenibilità. Credo che la sostenibilità sia il motore e il driver chiave per poter progettare e costruire reti infrastrutturali moderne ed efficienti.
ISI: Qual è stata la tua più grande sfida professionale finora?
NA: Comprendere l'importanza strategica della sostenibilità per promuovere un nuovo modello di ingegneria è stata la sfida più importante. Sono particolarmente soddisfatta di poter aiutare altre società del Gruppo Ferrovie dello Stato Italiane e altre società di costruzioni a sviluppare, proporre e realizzare progetti che contribuiscono allo sviluppo sostenibile di città e territori.
ISI: Qual è stato il momento della tua carriera di cui sei più orgogliosa?
NA: Essere riconosciuta come punto di riferimento per Italferr ed il Gruppo FS per le tematiche di sostenibilità. Mi sento parte del cambiamento. Sono orgogliosa di poter contribuire al riconoscimento del Gruppo FS come eccellenza italiana anche in tema di mobilità sostenibile.
ISI: Come hai conosciuto Envision?
NA: Ho sentito parlare di Envision per la prima volta ad una fiera internazionale sull'economia circolare e lo sviluppo sostenibile. In quel momento ho sentito che era uno strumento perfetto per indirizzare azioni e scelte concrete di sostenibilità.
ISI: Perché hai deciso di acquisire una qualifica come Envision SP?
NA: La competenza e l'esperienza maturata da Italferr nella progettazione di opere sostenibili ha portato all'identificazione del protocollo Envision come strumento utile che testimonia l'impegno dell'azienda nella ricerca di soluzioni sempre più efficaci e muove ad un approccio olistico nelle fasi di progettazione e gestione delle infrastrutture. Abbiamo pertanto sviluppato, in collaborazione con ICMQ S.p.A., le prime linee guida per l'applicazione del protocollo Envision alle infrastrutture di trasporto ferroviario, documento poi validato dall'Institute for Sustainable Infrastructure. Questa linea guida è diventata un punto di riferimento a livello nazionale e internazionale per l'applicazione del protocollo allo specifico settore. La linea guida tiene infatti conto del contesto normativo italiano ed è riferita al settore ferroviario. Sono diventata Envision Sustainable Professional perché credo nell'applicazione di Envision per indirizzare e migliorare le scelte progettuali in un'ottica di sviluppo sostenibile. Credo che si possano identificare nuovi spazi in cui sia possibile implementare un nuovo modello di ingegneria resiliente.
ISI: In che modo la tua organizzazione utilizza Envision?
NA: La mia Società sta usando Envision per misurare la sostenibilità di uno specifico progetto infrastrutturale e per evidenziare oggettivamente i benefici correlati alla realizzazione di quell'opera.
ISI: Come stai usando la tua qualifica ENV SP?
NA: Envision aiuta a comunicare in modo obiettivo, chiaro e trasparente il valore e la capacità di trasformazione di un territorio indotti dall'opera, consente pertanto alle comunità interessate di comprendere il significato più ampio dello specifico progetto infrastrutturale. Sto usando la qualifica ENV SP per sottoporre i progetti all'organismo di verifica.
ISI: Cosa significa per te un'infrastruttura sostenibile?
NA: Ritengo che l'infrastruttura sostenibile equivalga al progetto GIUSTO, giusto perché considera le esigenze espresse dagli stakeholder e perché si adatta meglio al contesto territoriale di riferimento.
https://sustainableinfrastructure.org/wp-content/uploads/2020/02/Nicoletta-Antonias.jpg
326
486
Dyan Lee
https://sustainableinfrastructure.org/wp-content/uploads/2023/01/ISI-for-web.png
Dyan Lee
2020-02-21 22:03:31
2023-04-13 08:23:34
ENV SP Spotlight: Nicoletta Antonias of Italferr S.p.A