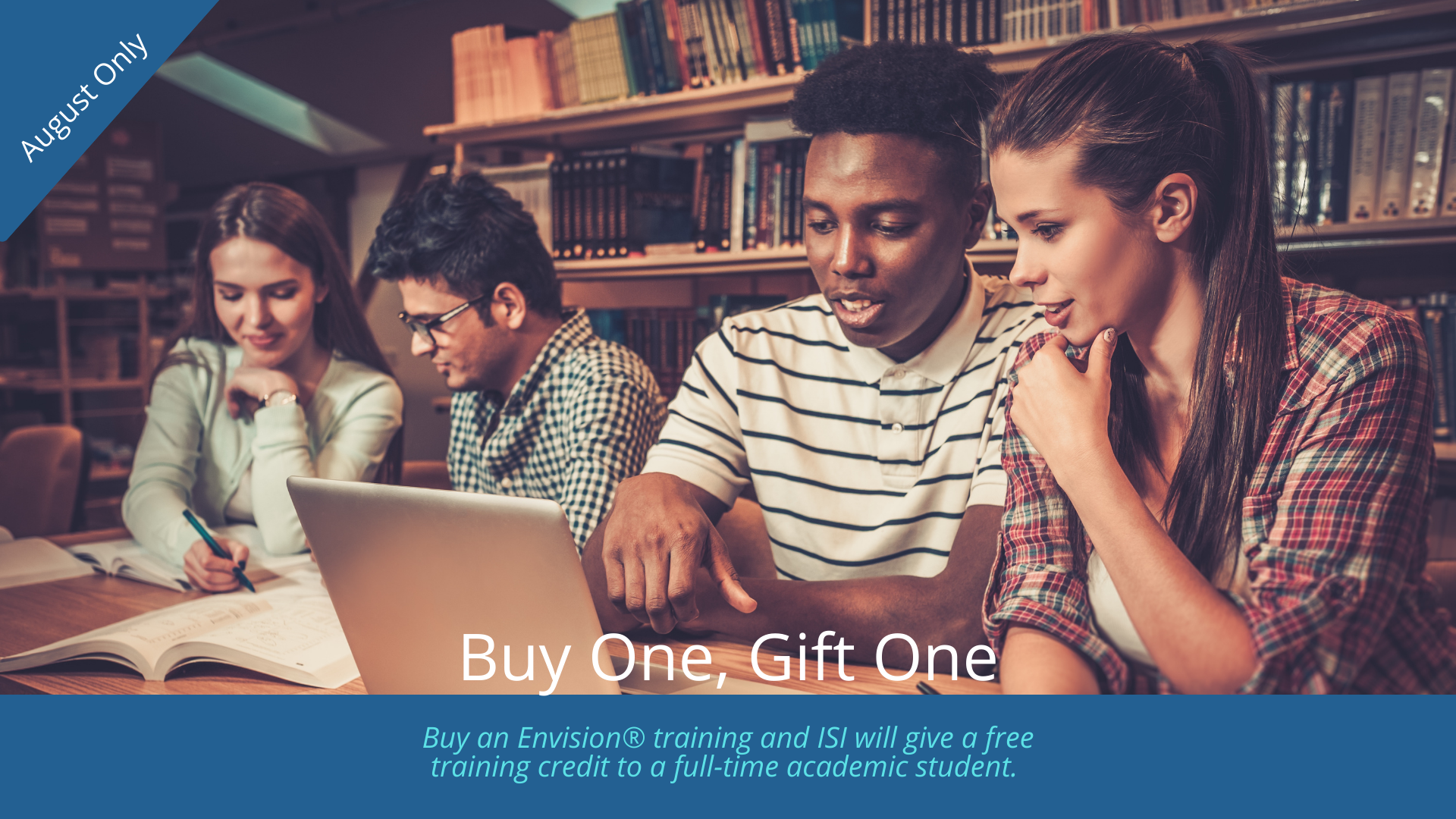 INVEST IN YOURSELF AND OTHERS!
Would you like the chance to give back while also learning ISI's Envision® framework?
In August, ISI will hold a special 'Buy One, Gift One'
promotion to help students learn Envision.
Your purchase of an Envision training can truly make a difference
for a student wanting to be credentialed in Envision sustainability.  
For every ENV SP training purchased in August, ISI will issue a free ENV SP training credit to a full-time academic student. In other words, buy one Envision training credit and ISI will donate one free training credit to a student.

If your organization wants to purchase more than one Envision training credit (bulk purchases), ISI will match the amount purchased.
For example, purchase 10 credits, 10 students will benefit from your generosity. Purchase 20 credits, 20 students will benefit. You get the picture.
Whatever amount you purchase, ISI will match!
Choose the student / university recipient or let ISI choose for you:
When you purchase a training credit for yourself or your employees, you can "designate" a student or a university class to benefit.  Either that, or let ISI choose the recipient(s) for you.
ISI will tally the Envision purchases in September, and we will add the appropriate number of credits to  academic accounts.
To "sponsor" a student, e-mail ISI and give us the student's name, e-mail address, and university information, so we can ensure they receive the free training credit.
If you are a private organization or public-sector agency and you purchase bulk training credits, you can
e-mail ISI and sponsor a university class of your choosing.
No worries if you fail to designate a student or university class, we will reach out to individuals and universities in September and allocate the appropriate number of credits.
Promotion Expiration:
The promotion expires on August 31st at midnight, so purchase training today on ISI's Envision dashboard. 
---
ENV SP Training Information:
Please feel free to share this information with a student or someone who may benefit from the promotion.
An ENV SP credential is valid for one year, and continuing education is required beyond that for
ENV SPs to maintain their credential. Continuing education ensures that ENV SPs maintain
knowledge of the latest sustainability practices, and that they are well versed on new approaches,
innovations, and issues relevant to sustainable infrastructure.
The online course provides individuals the opportunity to complete the online training at their own pace. The online course consists of seven (1-hour) self-paced modules. Upon completion of the modules, the individual accesses the online ENV SP exam.
ISI Provides:
• ENV SP credential certificate
• PDH certificate of completion
• Direct customer support
Pricing:
• Public-sector employees: $250
• Private-sector employees (ISI members): $700
• Private sector (non-members): $850
Bulk pricing: a 10% discount is offered for the purchase of 10 or more online courses. The online
training courses must be initiated within one year of purchase.
Download the "Buy One, Get One" promotional one-pager to share with others who may be interested in Envision training. You can also view the ISI e-newsletter
https://sustainableinfrastructure.org/wp-content/uploads/2021/07/BOGO-1920x1080Stream.png
1080
1920
Dyan Lee
https://sustainableinfrastructure.org/wp-content/uploads/2023/01/ISI-for-web.png
Dyan Lee
2021-07-28 17:45:30
2023-04-13 08:21:41
Promotion: Buy One, Gift One