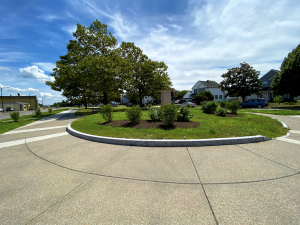 WASHINGTON, D.C. – August 17, 2020 – The Institute for Sustainable Infrastructure (ISI) announced today that the Buffalo Sewer Authority's Willert Park Green Infrastructure Project in Buffalo, NY, is the recent recipient of the Envision® Bronze award for sustainable infrastructure.
To earn an Envision award, a project must deliver a range of sustainability and resiliency benefits to the host and affected communities. These benefits are validated through a rigorous third-party review process against the Envision sustainable infrastructure framework.
Project Background and Context
The Buffalo Sewer Authority (BSA) has been a champion of green infrastructure through its "Raincheck 1.0" and "Raincheck 2.0" programs. Green Infrastructure, or GI, is an approach to water management that mimics the natural water cycle and reduces runoff from developed sites. GI includes strategies to reduce runoff such as planting trees, restoring and protecting wetlands, using rain barrels to collect stormwater, and using pervious materials to allow for water infiltration. GI has been shown to be a cost effective and efficient approach to stormwater management compared with other alternatives such as constructing water treatment plants. The Willert Park Green Infrastructure Project was developed in accordance with BSA's Long-Term Control Plan and will have a significant impact on water quality in the city of Buffalo.
BSA worked in close collaboration with Wendel, Joy Kuebler Landscape Architects and Watts Architecture & Engineering to deliver this sustainable project.
"I am grateful for all of the hard work that everyone has done to complete the Award winning Willert Park project. This Green Infrastructure project was truly a community focused effort that involved outreach, engagement, and participation through community visioning walks, meetings, and collaborative design," said Oluwole A. McFoy P.E., General Manager of Buffalo Sewer. Mr. McFoy continued, "I am also proud that this project also included the WaterWorx summer youth camp with education and activities around stormwater management and sustainability and helped contribute to the revitalization of Jesse Clipper Square, which was inspired by the original design by the City of Buffalo's first African American architect John Brent."
"The team did a fantastic job to make the Willert Park Green Infrastructure project a showcase of sustainability and green design. This award is the culmination of years of hard work that led to a project that provided stormwater management, improved parkland, and better community relations/education. I am very proud to have been part of this team." Scott Rybarczyk, PE, LEED AP Project Manager, Wendel.
https://sustainableinfrastructure.org/wp-content/uploads/2020/08/Black-Travel-Plain-Collage-Instagram.jpg
2160
2160
Dyan Lee
https://sustainableinfrastructure.org/wp-content/uploads/2023/01/ISI-for-web.png
Dyan Lee
2020-08-17 12:26:47
2023-04-13 08:23:16
Buffalo's Willert Park Green Infrastructure Project Earns Envision Bronze Award