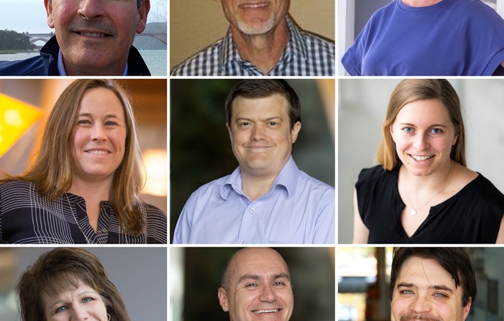 This is our 11th ENV SP Spotlight in our ongoing monthly series, and the first Spotlight article to feature a project team. The Southport Levee Improvement Project (SLIP) team is comprised of Envision Sustainability Professionals (ENV SPs), professional engineers, project managers, analysts, botanists and water resource professionals coming together to collaboratively work on an infrastructure project in West Sacramento, California that is pursuing Envision verification.
ISI had an opportunity to connect with the team to learn more about who they are and how they came together, and also how Envision was used on the SLIP project.
Institute for Sustainable Infrastructure (ISI): Tell us about yourselves. Specifically, what do you do professionally, and how did each of you contribute to the Envision work on the SLIP project?
Mark Zollo (MZ): I am a Senior Administrative Analyst, Flood Protection, for the West Sacramento Area Flood Control Agency (WSAFCA) in the City of West Sacramento, California. I have 25 years of experience in public works and redevelopment. I worked with the Envision team to determine relevant credits to the SLIP project and which levels of achievement could be pursued. I also helped the team examine and discuss how the project meets each relevant evaluation criteria in the Envision system for the credits we decided to pursue.
Greg Fabun (GF): I am the Flood Protection Manager for the West Sacramento Area Flood Control Agency (WSAFCA) in the City of West Sacramento, California. I have over 30 years of experience managing operations and capital improvement projects in the public sector. I reviewed credits with the Envision team to determine which ones to pursue and discussed with the team how the meets each relevant evaluation criteria.
Michaella Wittmann (MW): I am HDR's Director of Sustainability and was the Envision facilitator for this project. In addition to being an Envision Sustainability Professional, I am also a LEED Fellow and Fitwel Ambassador. I have more than 25 years of experience focused on integrating the right sustainable solutions for a multitude of project types and have been focused on integrating sustainability into infrastructure projects for the last 10 years. I also chair the Envision Technical Review Board which is the primary Envision decision-making body, and I am an ISI-approved Trainer and Verifier.
Jennifer Ninete (JN): I am a Sustainability Consultant with HDR and was the lead ENV SP for this project. I have more than 20 years of industry experience and six years using the Envision framework. I have worked on more than 20 Envision projects to-date and, in addition to being a Sustainable Transportation Professional (STP) and an ENV SP, I am also an ISI-approved Trainer and Verifier.
Ian Cain (IC): I am an ENV SP and Associate Botanist with HDR. On this project, which happened to be my first Envision project, I developed credit cover sheets and compiled project documentation. I have more than 13 years of experience serving as a project botanist or senior botanist on a variety of restoration, transportation, gas pipeline, housing development, local government, and transmission projects, with a more recent focus on restoration design and monitoring, transmission line, and transportation projects.
Morgan Abbett (MA): I am an engineer-in-training (EIT) as well as an ENV SP, LEED AP ND, Fitwel Ambassador, ISI-approved Trainer and an Envision Verifier. As a Sustainability Consultant with HDR, I worked with the project team to create credit cover sheets and compile supporting documentation for this project. I am well-versed in green rating systems for both buildings and infrastructure, having had the opportunity to manage green building certifications for diverse development and construction projects across the US pursuing third-party certification including LEED v4 ND and ID+C, LEED v3 NC, GreenPoint Rated, WELL, and Fitwel.
Kim Sosalla-Bahr (KS-B): I am a Registered Architect (RA) and hold LEED BD+C and ENV SP credentials. I am a Senior Sustainability Consultant with HDR. For the SLIP project, I worked with other members of the team to create credit cover sheets and compile supporting documentation. I have more than 25 years of professional architectural and sustainable design experience. My primary focus is integrating sustainable design in engineering infrastructure and architectural projects. I have had the opportunity to work multiple Envision projects and I am also an Envision Verifier.
Sergio Jimenez (SJ): I am a professional engineer (PE) and Water Resources Management Market Sector Leader with HDR in Sacramento, California. I was the Project Manager for the Southport Levee Improvement Project and have more than 25 years of experience in the fields of flood control water resources wastewater and environmental engineering design.
Vinson Russo (VR): I am a professional engineer (PE) and a Senior Water Resources Engineer with HDR. I assisted the project team with project details and in finding relevant supporting project documentation to submit for Envision verification.
ISI: Please explain how and why you came together as a team for the SLIP project.
JN: In October 2018, the West Sacramento Area Flood Control Agency (WSAFCA) issued a request for proposal for "Services for Project Assessment under the ISI Envision Sustainable Rating System" for the Southport Levee Improvement Project. HDR's proposal was selected by WSAFCA and the team began working together in January 2019.
ISI: Tell us more about the SLIP project and what the West Sacramento Area Flood Control Agency is aiming to achieve with this project.
JN: The Southport Levee Improvement Project (SLIP) is implementing flood risk-reduction measures for one of the most vulnerable levee segments along the Sacramento River in the Southport area of the City of West Sacramento. SLIP extends along the west bank of the Sacramento River, from just south of the Barge Canal, downstream 5.6 miles to the South Cross Levee. Levee improvements include a combination of fix-in-place and a new setback levee embankment construction with cutoff walls, seepage berms, utility relocation, demolition, rock slope protection and the use of borrow sites. Project transportation improvements include realigned roadways, new access ramps and roads, turnouts, cul-de-sacs, and maintenance corridors. Flood risk-reduction measures constructed will address deficiencies of through-seepage, under-seepage, slope stability and geometry, erosion, and encroachments and noncompliant vegetation.
MZ: WSAFCA's goal is to achieve a 200-year level minimum of levee performance for the city of West Sacramento. The project brings the levee up to standard with Federal and State levee design criteria, as well as providing opportunities for ecosystem restoration and public recreation.
Teamwork and Collaboration
ISI: Could you tell us more about how you worked together and organized yourselves as a team?
MW: The team worked together to retroactively apply Envision to the SLIP. Initially, there was a planned in-person meeting to review all Envision credits for applicability and potential level of achievement. After discussions, the team determined that the process could be carried out by phone over five conference calls. This approach reduced timing conflicts and costs associated with travel, while enabling additional staff to be included in the conversations.
The assessment discussions were led by ENV SPs and prompted WSAFCA to examine project decisions from varying perspectives based on the sustainability framework. The owner and project team had approached planning and design with an emphasis on sustainability. It was clear that project objectives aligned well with Envision. For example, key project objectives for SLIP included reducing flood risk, constructing a project that is politically, socially, economically, and environmentally acceptable; facilitating compatibility with the Central Valley Flood Protection Plan and West Sacramento General Re-evaluation Report; and providing ecosystem and habitat restoration, preservation and enhancement; providing improved or new public outdoor recreation and open space opportunities.
JN: After initial conversations, responsibilities for developing pursued credits were divided between two HDR ENV SPS, with the Lead ENV SP providing quality oversight and review. Because ENV SPs began developing credit packages as the assessment conversations progressed, the approach provided opportunities for timely discussion of issues arising during credit development and progression of conversations about interrelated credits.
After credits had gone through a quality control process, they were grouped into four batches for WSAFCA review. WSAFCA reviews were instrumental in providing the correct voice for the credit cover sheet narratives, as well as distinct details about the project's sustainable attributes. This collaboration helped to improve efficiency and enhance content throughout the credit development process. If questions arose during this process, the team communicated via email or phone to determine the best resolution. Once WSAFCA provided comments, the credits were finalized and prepared for upload to the ISI website.
Envision Experience
ISI: How was the use of Envision helpful for this project?
MW: Although this verification process began during project construction, the project had a great sustainability story to tell. Envision provided three things:
First, it brought to light and celebrated sustainable project attributes that might otherwise have been dismissed as 'business as usual.' Second, it started conversations around and highlighted the project's broader sustainability connections to the community and the environment. And third, it provided a platform for telling the project's sustainability story.
ISI: Why did you decide to use Envision on the SLIP project?
MZ: Simply, the City of West Sacramento has a history of championing sustainability and, as previously mentioned, Envision supports the project objectives. More tangibly, though, the State of California's Department of Water Resources Cost Share Guidelines outline cost share incentives for contributing to the state's sustainability objectives. Per the Guidelines, "The goal of including sustainability objectives in the proposed project is to better manage water resources in a manner that meets California's long-term environmental needs." Specifically, the state will increase its cost share for projects that are able to document their sustainable components via the ISI's Envision program. Applicants providing evidence of a Gold recognition are entitled to a 5% increase in the State cost share, and those receiving Platinum recognition can receive a 10% increase in the State cost share of the Total Project Cost. It was evident that this project had the components to achieve recognition through the Envision program, with optimism of receiving additional state funding. The project was initially submitted at a Platinum level. In the long term, the incentivized cost share gets projects to use the Envision process and experience how the process can lead to better informed project design.
ISI: What was the biggest challenge you had to overcome as a team and how did you do it?
JN: There were a couple challenges working as a team for this project. First, the obvious challenge of working across the country in different time zones and communicating by email and phone. Of course, this is a challenge many face today. Everyone on the team made a point to be very responsive to one another, especially when time sensitive questions arose. In addition, as a Biologist with other project work, Ian was assigned to a project 'in the field' after he had completed about two-thirds of his credit assignments. Due to time and connection limitations, this meant he would be unable to work on the remaining credits. Luckily Kim was able to pick up where Ian left off, so the Envision schedule didn't need to be altered significantly to manage the change. Kim had not been involved in the initial discussions, so the team worked to familiarize her with the project and documentation resources available for the credits she was assigned to develop.
ISI: What was one of the greatest benefits of using Envision on this project?
MZ: From WSAFCA's perspective, the Envision framework created a record that reflected the Board's care in balancing the project objectives and impacts to the community.  The Board's guiding principle was to provide the most flood risk protection to the community with the minimum impact to individuals, families, businesses, and their property.  Balancing that tension and impact is difficult and the verification process reflects that hard and difficult leadership that served the project well.
ISI: What are some of the things you learned through your teamwork and collaboration? Will these lessons learned shape the way you approach the use of Envision on other projects?
MW: The client's level of engagement related to the Envision process and evident pride and enthusiasm for the project made this work very interesting. Sometimes when you retroactively assess a project in the context of the Envision framework, there can be disappointment because the project doesn't fulfil key requirements in credit criteria.
JN: With this project, more and more benefits kept coming up. Even as credit packages were being developed and completed, WSAFCA was sending new tidbits of information that enhanced the credits. For instance, late in the process, the city was notified that they would be receiving grant funding for the Southport Levee Trailhead Project. The grant award funds half of the cost to construct a formal trailhead – with improvements like parking, landscaping, an informational kiosk, shade features, and an ADA ramp to the crown of the levee – adjacent to the new Southport Levee Trail. The Envision team determined which credits could benefit from incorporating the new information and revised those credits with the additions.
This collaborative approach really benefits the Envision team, the client's team, the project team and the overall Envision submittal. Hopefully, in future projects we can encourage, and the team will be agreeable to, a similar process.
https://sustainableinfrastructure.org/wp-content/uploads/2020/01/Picture1.png
504
504
Tatyana Nagornaya
https://sustainableinfrastructure.org/wp-content/uploads/2019/08/logo.png
Tatyana Nagornaya
2020-01-15 17:47:55
2020-01-15 17:49:23
ENV SP Spotlight: Southport Levee Improvement Project Team