ENVISION: The Blueprint for Sustainable Infrastructure
Infrastructure is the foundation on which our communities live. It provides us with drinking water, handles our waste, creates spaces for us to enjoy, and allows us to effectively communicate with one another.
---
Infrastructure is the way our roads are built and how they connect with one another. It's the buildings where we live and work, and provides a basis for personal security, public health, and it impacts the economic viability and competitiveness of our cities.
It's important. Yet, in today's world, infrastructure is often underfunded and overlooked until it breaks down and impacts a community.
Left to right: Marking the first Envision event — and 1st Envision award — in Europe; participating in a UN dialogue on PPPs in Geneva; a collaboration agreement between ISI, CICCP and Tecniberia is signed in Spain; and the Canadian Society for Civil Engineering Conference keynote.
The United Nations Secretary General António Guterres has stated, "Infrastructure investment will be crucial. The world should adopt a simple rule: if big infrastructure projects are not green [sustainable], they should not be given the green light. Otherwise, we will be locked into bad choices for decades to come."
As cities continue to grow and development moves forward, the need for sustainable, resilient, and equitable infrastructure becomes paramount. And with the climate-change crisis looming, communities are looking for ways to cut GHG emissions, create good-paying green jobs, and address environmental justice and social justice concerns. That's where Envision comes in. Envision is the solution for building back better.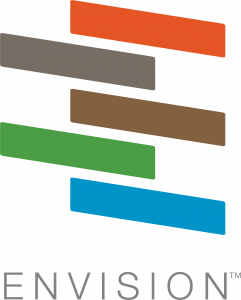 Envision provides a consistent, consensus-based framework for assessing sustainability, resiliency, and equity in civil infrastructure.
Fundamentally, Envision is about supporting higher performance through better choices in infrastructure development.
The framework provides a flexible system of criteria and performance objectives to aid decision makers and help project teams identify sustainable, resilient, and equitable approaches during the planning, design, and construction that will continue throughout the project's operations, maintenance, and end-of-life phases.
Envision recognizes resource constraints and the diversity of mandates, schedules, budget cycles, and funding sources. Envision not only asks are we doing the project right, but also are we doing the right project?
To learn more about Envision, download the Envision brochure or the more detailed Envision packet. You can also view the latest Envision by the Numbers quarterly release for information on Envision use and related statistics from our Verification, Credentialing and Membership Programs.