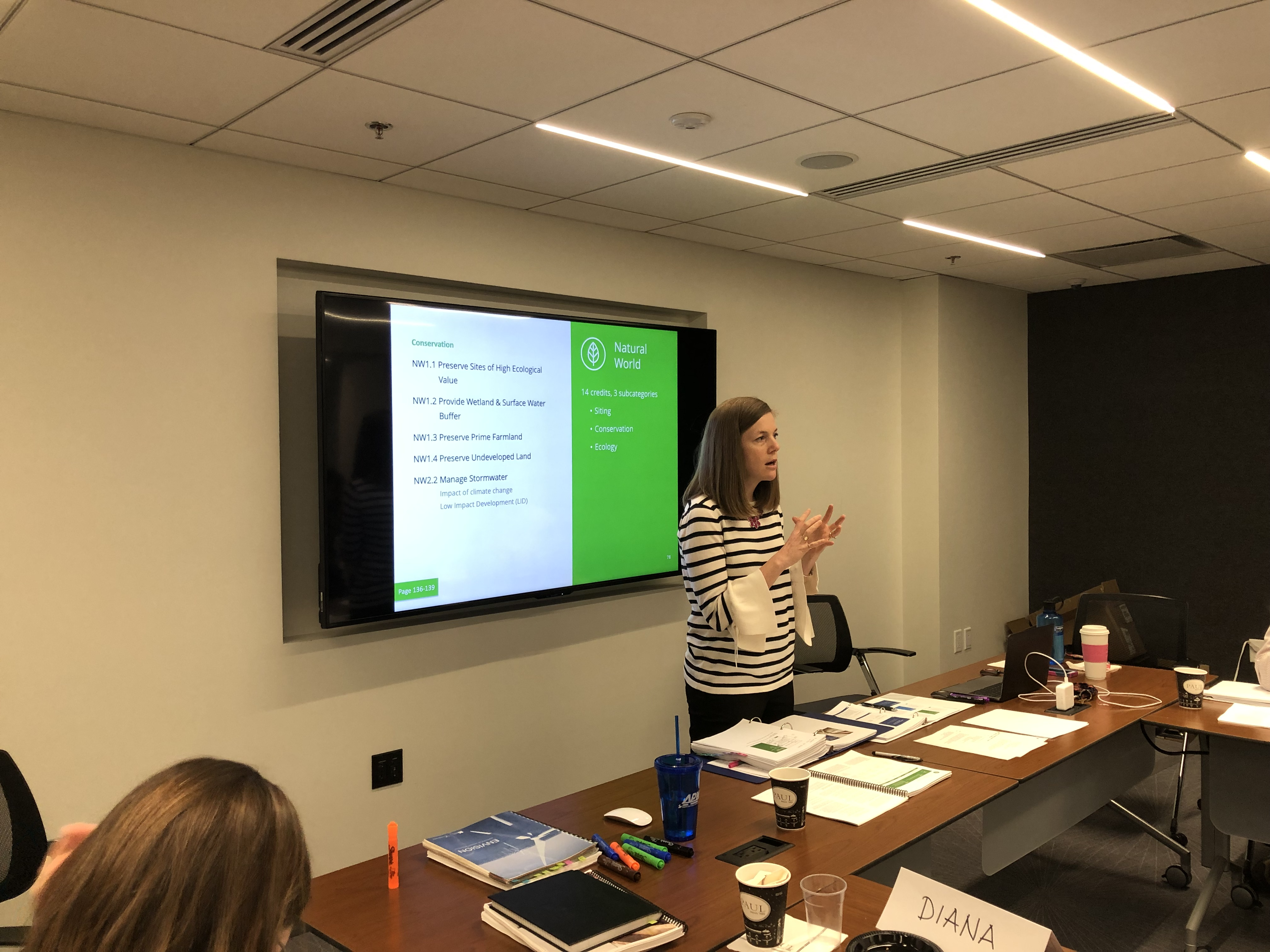 Some bittersweet news at ISI today: Our very own Lindsey Geiger, P.E., is moving on from ISI to pursue a new professional opportunity, after five exceptional years in the role of Education Director. ISI congratulates Lindsey on the start of a new adventure and takes this opportunity to highlight her singular contributions to the team!
Lindsey has been instrumental in shaping education at ISI, achieving strong growth in the program at a time when both our signature framework (the Envision v3 launch in April 2018) and the operating environment (COVID-19) transformed. She brought tremendous dedication and organizational skills to make that happen, along the way cultivating strong relationships with the professionals, the public-sector agencies and the private firms that make ISI the hub of a unique community in the infrastructure space.
Lindsey will be working on environmental and sustainability issues at the Portland Cement Association (PCA), and notably their 2050 roadmap to carbon neutrality. Some of the work will also have a natural tie-in with infrastructure and rating systems. "Frameworks like LEED and Envision certainly have a role to play in reducing carbon all along the value chain of concrete," Lindsey noted. "And let's not forget: as much as that tall building project might use a lot of concrete, a large infrastructure project is often on a whole other level."
In one of her last official acts as Education Director this week, Lindsey is leading her final Envision Train the Trainer workshop. Looking back, she says that when COVID-19 temporarily upended in-person facilitator training a few years ago, figuring out a way to deliver the workshops online was a critical step for ISI. "That was decisive — ensuring that we did not lose the momentum that had been building, particular after the launch of version 3 of Envision in April 2018."
She considers the experience of leading Envision trainer workshops as one of her highlights at ISI; a strong passion for sustainability shone through with every new cohort. It's this same passion that has shaped her career over the years, including roles as a sustainability engineer. A graduate of University of Virginia (B.S., Civil Engineering) and Michigan Technological University (MS, Environmental Engineering), Lindsey had also worked for years as a water and sanitation engineer in Mali.
Just prior to ISI, she was a Project Engineer and Community Programs Manager at AWWA, where she used her water utility knowledge to customize and deliver Envision credentialing training packages for a variety of customers including DC Water and the City of Westminster, Colo.
Her work at AWWA also included managing over 30 infrastructure projects in underserved communities and providing training for project teams and technical reviews of work plans and design reports.
Creating a New Chapter for Education at ISI
Shortly after arriving at ISI, she was tasked with developing a way for ENV SP to renew their training and keep up-to-date in their knowledge of sustainable infrastructure practices. She delivered, and then some, leading the creation of a credential maintenance program for a broad network of ENV SPs that includes diverse educational offerings (regular webinars, curated online courses, and an annual virtual conference) to ensure credential holders are equipped to advance sustainability in the field.
Upon implementation of the program, she helped realize an initial 60% retention of credential holders and increased that retention to 80% in the program's first two years.
She has also contributed to the further refinement and development of Envision and ENV SP course development. She implemented programmatic updates to increase the number of new credential holders while exceeding targets – and achieved this feat during COVID-19!
Behind the scenes, and through it all, it has been an absolute pleasure working with Lindsey. She has been an incredible presence on this team and on ISI committees, and she been more than instrumental in shaping the success of ISI. We wish her all the best in her next professional adventure, and know this: the post-ISI Lindsey Geiger will continue to be a name to watch for, as a sustainability leader and driver in the A/E/C industry!
https://sustainableinfrastructure.org/wp-content/uploads/2023/03/Lindsey_teaching.png
3024
4032
Conrad McCallum
https://sustainableinfrastructure.org/wp-content/uploads/2023/01/ISI-for-web.png
Conrad McCallum
2023-03-07 22:18:16
2023-03-09 14:07:24
ISI Salutes Achievements of Lindsey Geiger, Education Director