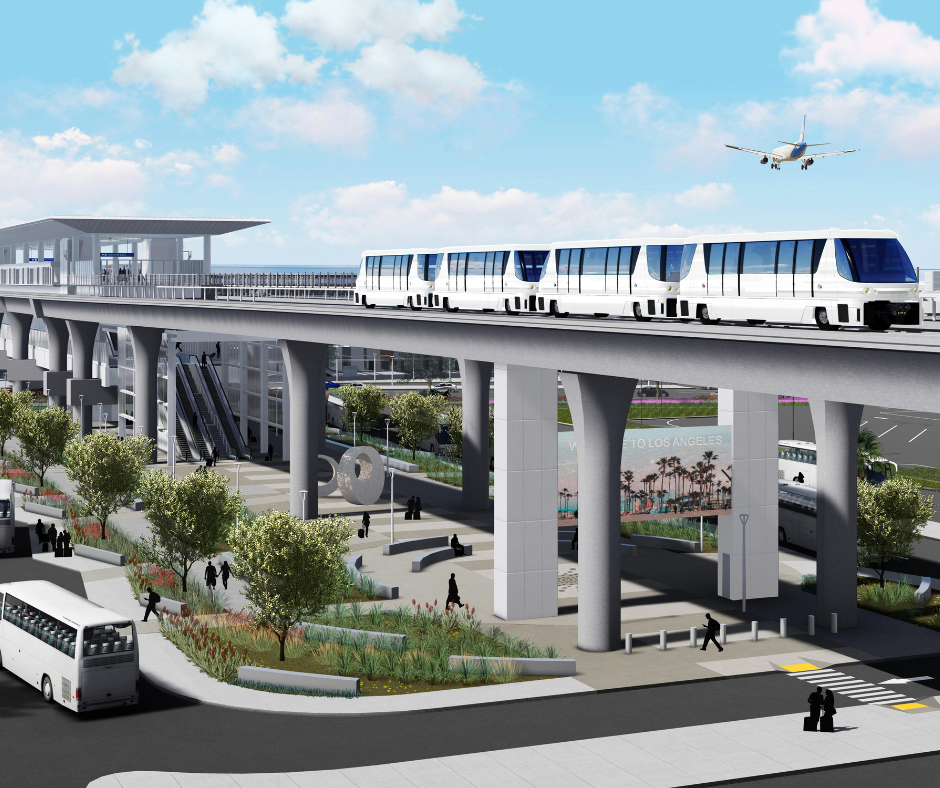 An electric train system that runs on a 2.25-mile elevated guideway at Los Angeles International Airport (LAX) is the latest recipient of an Envision Gold Award for sustainability from ISI. The Automated People Mover (APM) project will connect six stations, three of which are located inside the Central Terminal Area (CTA) and three outside. LAX broke ground on the APM in March 2019, and the project is scheduled to open for passenger service in 2023.
The APM will provide enhanced connection and an improved user experience for an anticipated 30 million passengers each year. The system will also help alleviate congestion in the surrounding communities.
Quotes
"The LAX Automated People Mover is coming to life right before our eyes as the centerpiece of our multibillion-dollar airport modernization program, with a sharp focus on building a sustainable LAX for the future of our city," said Justin Erbacci, Chief Executive Officer, Los Angeles World Airports. "This transformative transportation system will remove cars from the road, help ease traffic congestion around our Central Terminal Area, and create a reliable way for our tens of millions of passengers to access the airport."

"This project builds on a robust vision for sustainability, entirely transforming the way passengers move around and through Los Angeles International Airport and significantly reducing the reliance on automobiles for ground access, said Melissa Peneycad, ISI managing director. "All that is achieved broadly for community sustainability, quality of life, stakeholder involvement, and energy use on this project make it a well-deserved recipient of the Envision Gold Award."
The project had Envision verified-achievements in areas such as planning for sustainable communities, improving community quality of life, stakeholder engagement, and use of renewable energy.
https://sustainableinfrastructure.org/wp-content/uploads/2022/12/APM-Photo-1.png
788
940
Conrad McCallum
https://sustainableinfrastructure.org/wp-content/uploads/2023/01/ISI-for-web.png
Conrad McCallum
2022-12-12 15:30:38
2023-04-13 08:20:39
LAX Automated People Mover Project earns Envision Gold for Sustainability