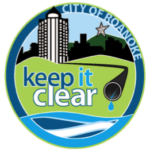 The City of Roanoke's Stormwater Utility intends to incorporate sustainable practices and measures into all future stormwater infrastructure projects. One of the ways this is being accomplished is
through the use of the Envision rating system. For those not familiar with this rating system, Envision is for infrastructure what LEED is for buildings. Envision was created by the Institute for Sustainable Infrastructure and focuses on the importance of sustainability and protecting the environment. The City believes that using Envision in the various stages of stormwater improvement projects will not only improve the health of our streams and reduce flooding, but will move Roanoke toward a more sustainable and resilient future.
The first step for using Envision was to create a report card or benchmark for recently completed projects. This benchmark included 13 projects and how they rated under Envision's five key categories: Quality of Life, Leadership, Resource Allocation, Natural World, and Climate and Risk. There are a total of 60 Envision sub-categories in which ratings points are available for credit.
The 13 projects benchmarked were the typical "run of the mill" stormdrain projects. Most of the projects were located within residential areas and consisted of inlets, stormdrain piping, and curb and gutter. The only goal of most of these projects was to alleviate flooding and as such, water quality was not a design component. The outfall for these projects included roadside ditches, closed piping systems, and natural watercourses. By typical CIP project costs, these projects were fairly small, the largest of which was $1.2 million.
Through the benchmark evaluation, it became clear that historical stormwater improvement project designs were missing the sustainability mark. The average Envision score for the 13 projects was 4% of total available points. Out of 60 credit categories possible these projects only received points in 19 of those categories. Even though the results were lower than expected, this benchmarking was essential to ensure future stormwater improvement projects are both sustainable and resilient.
Once the benchmark evaluation was complete, a summary of the findings included recommendations for future projects. Those recommendations span all phases of a project:
Planning Phase Recommendations included:
Updating the capital project rating system,
Increasing community outreach, and
Increasing collaboration and teamwork among City departments/divisions.
Design Phase Recommendations included:
Performing voluntary downstream analysis for all projects,
Integrating water quality components into all projects,
Incorporating street trees into applicable projects,
Improving the discharge method through stream/riparian buffers, and
Balancing of site materials.
Construction Phase Recommendations included:
Incorporating sustainability requirements in requests for proposals,
Using regional materials, and
Creating pollution prevention plans for all projects.
The next step in the process includes applying the recommendations listed above to projects that are already designed, but "on the shelf" awaiting funding, thereby making changes to current design before the projects go out to bid. Thereafter, Envision will be applied to all new stormwater improvement projects – ideally during the concept/preliminary engineering phase – to ensure not only the project is done right, but also to ensure that the right project is being done.
Using Envision as part of the project design process is simply one more step along Roanoke's path toward a more sustainable and resilient future. After all, projects we build today will shape our City for decades and generations to come.
For further information on how the City of Roanoke is using Envision please contact Danielle B. Bishop, PE at danielle.bishop@roanokeva.gov or 540-853-5900. In addition, the complete benchmarking report can be found at:
https://sustainableinfrastructure.org/wp-content/uploads/2019/08/forest-e1496432654941-1024x525-2.png
525
1024
Anthony Kane
https://sustainableinfrastructure.org/wp-content/uploads/2023/01/ISI-for-web.png
Anthony Kane
2017-06-02 11:41:14
2023-04-13 08:24:49
Roanoke Stormwater Benchmarks Capital Projects Using Envision