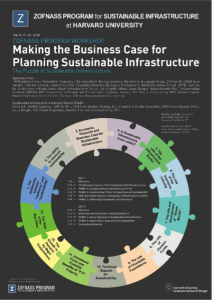 by John F. Williams II, CEO and Chairman of Impact Infrastructure – makers of Autocase
Over two days in March, I had the privilege of attending an outstanding event sponsored by the Zofnass Program for Sustainable Infrastructure at Harvard University. I have been attending Zofnass events at Harvard since participating in its Sustainable Industry Advisory Board in 2008.
A decade ago, I represented HDR, a large architecture, engineering and construction (AEC) firm, and was advocating for the inclusion of economic analysis in the evaluation of green Infrastructure and buildings. There were approximately 40 major AEC companies typically attending these events as well as leading asset owners, public agencies, the finance community, and academic researchers. We all shared an awareness of the long-term and locked-in implications of decisions made that shape the built environment. I did my best to stress that each decision has costs and benefits that can last for many decades. My Impact Infrastructure partners, John Parker and Steph Larocque as well as their HDR leader, Dr. David Lewis, had successfully risen to my challenge to find a way to measure "green." I worked with the Zofnass Program and subsequently, the Institute for Sustainable Infrastructure (ISI) to incorporate economic analysis and comprehensive business cases in their work. This was meaningful and rewarding work – everyone involved was involved because we felt we were doing the right thing. While we were convinced that industry would benefit from building the right project and building the project right, we also were involved because the quality of life of communities and the environment would also be rewarded.
We had conviction and were on a mission. There were setbacks though. In the spring of 2008 or 2009, were convened at Harvard's Graduate School of Design and specifically focused on the implications of sustainable design in project finance. One of the speakers was an executive from rating agency, Standard and Poor's. When asked how they view sustainability in government bond ratings, we were told that it made no difference. We were shocked and dismayed.
Fast forward a decade to this week and the event entitled, "Making the Business Case for Sustainable Infrastructure." It's as though we are living in an entirely new world. Speaker after speaker confirmed that it is essential that we determine the value associated with investments in infrastructure, buildings and the communities they form.  The value that we are now seeing generated from sustainable projects is the result of the informed design and construction decisions made by members the Zofnass and ISI circle.
And to the naysayer from S&P, there is now concrete evidence that sustainable design now results in lower cost financing. This was provided by Paul Brandley and John Markowitz of the Massachusetts Bay Transportation Authority. Jeffrey Matthews from Barclays Investment Bank offered three case studies on best value project procurements that stressed the importance of maximizing the value of public benefits over lowest bid. Jack Hand from Power Engineers, presented on the new, Denny Street Substation in Seattle. In responding to the City's Sustainability requirements, incredible changes have been made in substation design to incorporate public spaces so that it fits into an urban neighborhood as a valuable neighborhood asset and delivers public benefits. We heard from Cris Liban of LA Metro, running sustainability at a regional transportation agency severing more than 10 million residents in and around LA.
LA Metro is focused on sustainable design and operations to deliver valuable public benefits that create returns on investment that are being plowed back intoinnovation.
One of my favorite presentations hit close to home. Maria Lehman focused on the complexity of risk management and challenges of engaging stakeholders involved in the $4 Billion replacement of the Tappan Zee Bridge (now the Governor Mario M. Cuomo Bridge) across the Hudson River in New York. I know the project well as HDR played a major role in designing the new bridge.  The speaker described the development process including financing, planning, permitting, design, construction, environmental monitoring and technology that is built into the bridge, all with the goal of giving it a 100-year lifetime. They have done an amazing job. When asked about their assessment of value, we were told that the development team considered the life cycle implications of the project but did not determine the Triple Bottom Line Costs and Benefits associated with the project (financial/economic, social and environmental returns on investment). Given that much of the bridge planning work was done years ago, I understand why they did not attempt to determine the value of public benefits. Just imagine how much easier it would have been to replace the bridge had stakeholders would have seen the value the project would bring to them in terms of people, profit, and planet?
The new Governor Mario M. Cuomo Bridge, the Denny Street Substation, Barclays best value cases and the MBTA have raised the bar. Today, the maximization of public value in exchange for limited resources is being made possible thanks to innovative financing, technology, contractor-led development teams, and designers who have embraced new roles in responding to the demand for sustainable solutions.  Triple Bottom Line Cost Benefit Analysis (TBL-CBA) and our Autocase tools helping to solve the value question.  We are making sophisticated economic analysis available to projects of all sizes.
Thanks to cloud based computing, our collaborative partnerships with: Autodesk; the world's top AEC companies; feedback from cities, counties and state agencies; public utilities; major airports; commercial real estate companies; and, public companies, our world class team of economists and software developers are enabling the practical creation of objective, transparent business cases.  Our cases address internal costs and benefits as well as the value of public benefits.  By answering the question, "What's in it for me?" we are unlocking the potential for investments in sustainable infrastructure and buildings.
A decade since the Standard and Poor's no impact prediction, their competitor, Moody's has shown them the way. They are joined by impact investors and I predict that insurance companies are close behind[1].
It's a different world in many ways. Anyway you look at it, the value of benefits is now the focal point. At the Zofnass Program for Sustainable Infrastructure we have been promoting long term value in addition the traditional focus on short-term costs. Zofnass has planted a leadership flag for sustainable infrastructure and Impact Infrastructure, our Autocase products and partners are proud to have been along for the adventure.
Think forward another decade and I predict you will see sustainability as standard. Infrastructure sustainability will be wrapped into Building Information Modeling (BIM), artificial intelligence and generative design, project finance, best value procurement, performance reporting procedures and most importantly, societal norms.
[1] "The fingerprint of climate change is now clearer…and it's sticking around" Simon Fowell and John Parker, APWA Reporter May 2018 – forthcoming
https://sustainableinfrastructure.org/wp-content/uploads/2019/08/Publicagenciesareaddingvalue-2.jpg
435
840
Anthony Kane
https://sustainableinfrastructure.org/wp-content/uploads/2023/01/ISI-for-web.png
Anthony Kane
2018-03-27 11:42:29
2023-04-13 08:24:48
Making the Business Case for Planning Sustainable Infrastructure