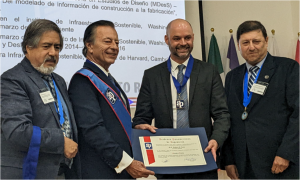 ISI's President and CEO Anthony Kane has been inducted into the Pan-American Academy of Engineering / Academia Panamericana Ingenieria for contributions to the advancement and betterment of the engineering profession in countries throughout the Americas. Kane was presented with the award in Puerto Rico at the organization's 2022 Annual Meeting: "Engineering the Future of our Nations Across the Americas."
This honor recognizes the depth and impact of Mr. Kane's contribution to the A/E/C industry, particularly in calling attention to the importance of improving how societies plan, design, and build infrastructure, and by elevating the solution — the Envision sustainable infrastructure framework and rating system. From collaborating on the evolution of Envision in recent years, as a research director at the Zofnass Program for Sustainable Infrastructure at Harvard University's Graduate School of Design, to leading its development and expansion under ISI, Mr. Kane has made singular contributions to the framework. Today with the publication of the Spanish translation of the Envision Manual, completed under Mr. Kane's tenure, and ISI's collaboration with the Mexican Federation of Civil Engineers, Envision use is poised to grow in Mexico and Spanish-speaking Latin America in the coming years.
"It is humbling to be included among so many accomplished professionals across the Americas. I still have a long way to go but I was inspired by those who have dedicated their careers to making the world a better place. Also inspiring, the theme of the conference was sustainable and resilient infrastructure!
Biography – Anthony Kane
As ISI President & CEO, Anthony oversees the organization's overall operations and leads the development of the Envision framework. He was formerly a research director at the Zofnass Program for Sustainable Infrastructure at Harvard University's Graduate School of Design, a research associate with the Materials, Processes, and Systems Group at Harvard University, and an instructor at the Boston Architectural College. He holds a bachelor's in architecture, summa cum laude, from Virginia Tech and a master's degree in design studies from Harvard University. Anthony is a co-author of Ceramic Material Systems in Architecture and Interior Design and a contributing author of Infrastructure Sustainability and Design.
About the PAAE
Founded in 1995, the Pan-American Academy of Engineering brings together the engineering professional community in the Americas. Working with engineering professional bodies, post-secondary institutions, and research organizations, PAAE identifies solutions to problems that call for the engineering profession's leadership. The academy also disseminates the achievements of this professional community, and creates awareness among engineers about the need to maintain a continuous process of professional development and high ethical standards.
https://sustainableinfrastructure.org/wp-content/uploads/2022/11/Screenshot-2022-11-30-at-11.06.31-AM.png
408
640
Conrad McCallum
https://sustainableinfrastructure.org/wp-content/uploads/2023/01/ISI-for-web.png
Conrad McCallum
2022-11-30 16:03:25
2023-04-13 08:21:05
Anthony Kane inducted into the Pan-American Academy of Engineering