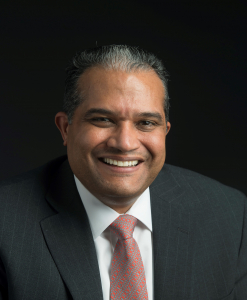 Washington D.C., 21 March 2023 — ISI is very pleased to announce the appointment of Professor Feniosky Peña-Mora of Columbia University to its Board of Directors. Professor Peña-Mora fills the member-at-large seat previously vacated by Martin ("Marty") Janowitz, who completed his term in 2022.
"We are indebted to Marty for his contributions to the board and the tremendous support he has provided to the development of the Envision® sustainability framework over many years," said Anthony Kane, ISI's President & CEO. As communities and public agencies look to solutions like Envision to achieve sustainability, equity, and resiliency in the built environment, ISI is fortunate once again to be able to attract another infrastructure professional of outstanding calibre to join its board: Feniosky Peña-Mora, the Edwin Howard Armstrong Professor of Civil Engineering and Engineering Mechanics at Columbia University.
"Professor Peña-Mora has made exceptional contributions to infrastructure sustainability through his research, teaching, academic leadership, and practice, and in particular as the former commissioner of New York City's Department of Design and Construction — the country's largest municipal public works department," Kane highlighted. "The Institute for Sustainable Infrastructure is privileged to be able to benefit from Dr. Peña-Mora's wealth of expertise and significant prior board experience in shaping strategic direction at ISI."
Feniosky Peña-Mora, ScD., PE(DR), NAS(DR), CCM(UK), F.CIOB(UK), NAC, Dist.M.ASCE, along with being the Edwin Howard Armstrong Professor, is a Professor of Earth and Environmental Engineering and of Computer Science at Columbia. He is the Executive Director of Columbia's Center for Buildings, Infrastructure and Public Space, which identifies how best to design, construct, and manage buildings, infrastructure, and civic space, emphasizing functionality, sustainability, and resilience.
From 2014 to 2017, he was Commissioner of the New York City Department of Design and Construction (DDC). In response to the devastation of Hurricane Sandy in 2012, DDC managed the creation and expansion of resilient and sustainable infrastructure projects to protect New York City against extreme weather emergencies and reduce green gas emissions. As part of the New York City Build-it-Back Program, he led the Program Management efforts to procure and manage three Construction Management-Design-Build contracts responsible for raising, rebuilding, and flood-protecting over 1000 homes in the three hardest-hit NYC Boroughs. Among the most significant projects of Peña-Mora's tenure at DDC were the new $740 million Police Academy, the new $640 million 911 Site, and the Times Square reconstruction.
Prior to his public service leave at DDC, he was dean of the school of engineering and applied sciences of Columbia and an endowed professor. Previously, he held endowed professorships at MIT, where he had earned his MS and PhD in civil engineering, and at University of Illinois Urbana-Champaign, where he also served as Associate Provost. Peña-Mora is a recipient of the Presidential Early Career Award for Scientists and Engineers (PECASE), the National Science Foundation CAREER Award, the FIATECH Engineering & Technology Innovation Award, as well as numerous awards from ASCE.
Professor Peña-Mora is a member of the Boards of New York City Health and Hospitals, the ACE Mentor Program of Greater NY, and the American Society of Civil Engineers (ASCE). At ASCE, he chairs the Industry Leaders Council (ILC) and the Board Strategy Advisory Committee (BSAC), which is currently updating ASCE's strategic plan.
At ISI, Prof. Peña-Mora will serve alongside Board Chair Michael Murcha (Madison Metropolitan Sewage District) and Board Members Erin Cooke (San Francisco International Airport), Lauren Evans (Pinyon Environmental), Sergio Pecori (Hanson Professional Services Inc.), Mark Pestrella (Los Angeles County Public Works), and Renee Ring (Environmental Financial Consulting Group).
https://sustainableinfrastructure.org/wp-content/uploads/2023/03/Feniosky-Pena-Mora-300-X-300-360-×-360-px.png
360
360
Conrad McCallum
https://sustainableinfrastructure.org/wp-content/uploads/2023/01/ISI-for-web.png
Conrad McCallum
2023-03-21 02:59:28
2023-07-06 16:06:01
ISI welcomes Feniosky Peña-Mora to its Board of Directors