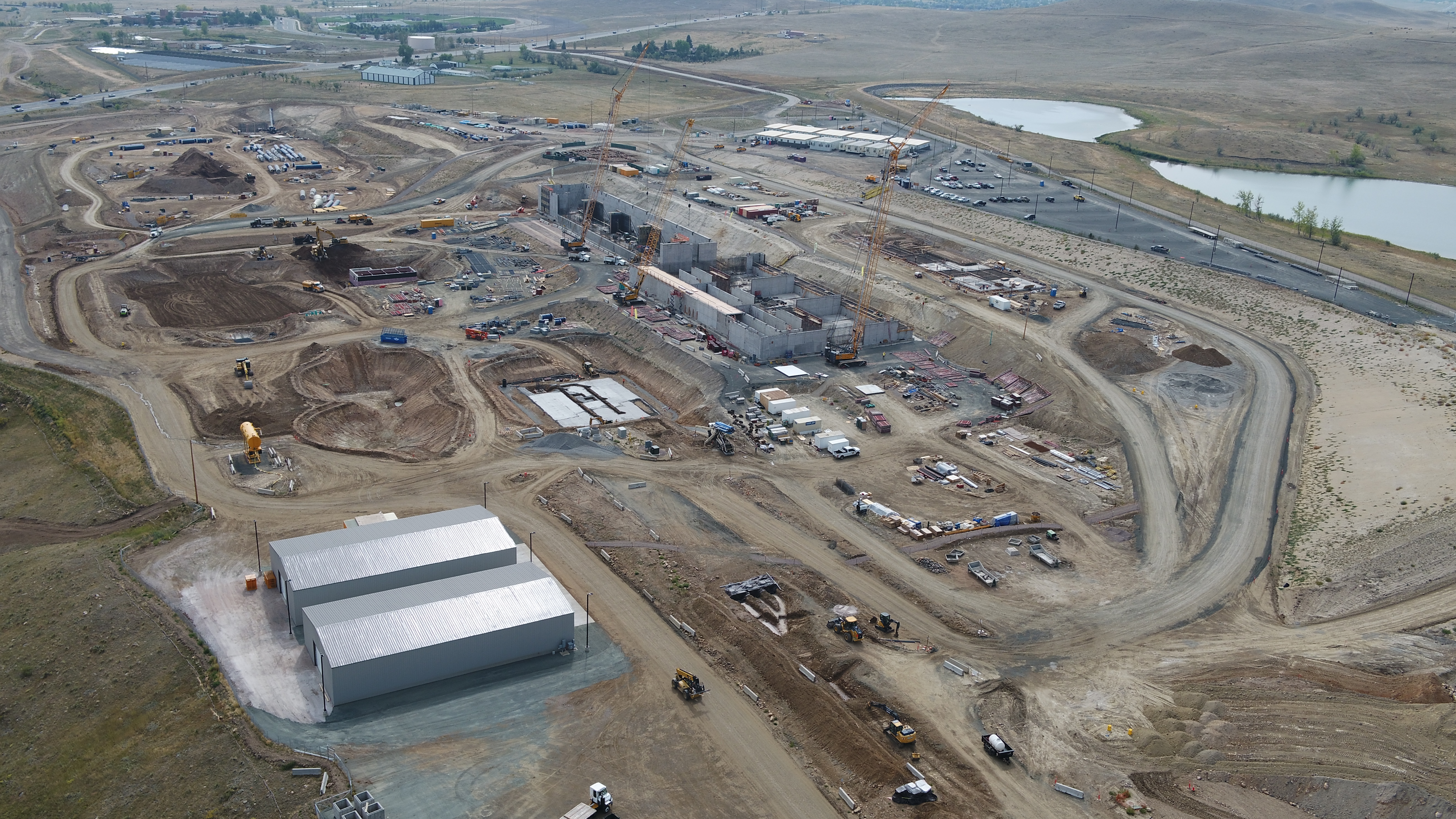 Current view of the construction site.
Denver Water's Northwater Treatment Plant (NTP) is the most recent recipient of the Envision Gold award for sustainable infrastructure, bestowed by the Institute for Sustainable Infrastructure.
CDM Smith teamed with Jacobs as the Owner's Representative to validate the project's sustainability achievement, along with Kiewit, the Construction Manager-at-Risk.
The NTP will become the fourth potable water treatment plant in Denver Water's system. It is a new 75 million gallons per day (MGD) state-of-the-art facility that will supplement Denver Water's aging Moffat Water Treatment Plant.
This approach allows Denver Water to reduce Moffat's capacity, which will extend its useful life for two more decades while also providing Denver Water with additional operational flexibility, with four drinking water treatment plants instead of three. It saves the utility between $60 and $80 million compared to what it would have cost to replace the aging Moffat facility, as well as providing the ability to expand when needed in the future.
The $400 million NTP is situated on 100 acres of Denver Water's existing Ralston Reservoir property north of Golden in unincorporated Jefferson County, Colorado. The NTP will include seven primary buildings and multiple auxiliary facilities including tanks, clearwells, pump stations and vaults. Construction is expected to be completed in 2024.
"The Northwater Treatment Plant is the perfect example of how Denver Water is working to develop the most efficient and financially responsible solution for our customers over the next 100 years," said Pete McCormick, project manager for the North System Renewal Project, which includes the Northwater Treatment Plant. "This state-of-the-art facility will feature modern water filtration and disinfection technology, improve reliability, and utilize renewable energy."
The project's executive sponsors and all firms involved in this project are deeply committed to sustainability.
Since the NTP project's inception, sustainability was a primary objective, along with modularity, quality, safety, and ease of maintenance, among others. Pursuing Envision verification was one of the means set out by the project's executive sponsors and project management team (PMT) – comprised of Denver Water, its Owner's Representative, Jacobs and CDM Smith, and Kiewit, its Construction Manager-at-Risk, – to validate the project's sustainability achievement. Since Denver Water split the project into eight discrete discipline-based design packages, the PMT worked with over 50 design firms – most notably, Jacobs, AECOM, and Carollo –  to design and deliver this award-winning sustainable project, with each firm having its own strong commitments to sustainability. "The Envision guidance provided by our design and sustainability consultant, AECOM, combined with a talented team of engineers and architects from multiple local firms, really pushed our team to make smart decisions and enhance the project's sustainability in impressive ways," said Jill Crockett, Jacobs project manager.
"Thanks to the incredible leadership and commitment on the part of Denver Water and its project partners, the Northwater Treatment Facility will effectively, efficiently, and sustainably help Denver Water continue to meet the potable water needs of the community for years to come," said Melissa Peneycad, ISI's managing director. "This project is a great example of what is achievable through excellent teamwork and collaboration, the development and use of a robust sustainability management plan throughout the life of the project, and a multi-disciplinary approach to project delivery."
The Envision sustainable infrastructure framework and rating system includes a comprehensive set of sustainability and resilience indicators – called credits – that collectively contribute to positive social, economic and environmental outcomes.
The Envision sustainable infrastructure framework assesses project sustainability across five categories: Quality of Life, Leadership, Resource Allocation, Natural World, and Climate and Resilience. To earn an Envision Gold award, a project must achieve a heightened range of sustainability and resilience outcomes across these five categories.
Some of the major sustainability features and achievements that contributed to the NTP earning an Envision Gold award are outlined below.
Adaptability and operational flexibility. The NTP is capable of being operated remotely, which will allow the plant to stay fully operational, even in the midst of a health epidemic, pandemic or other significant issue that may require workers to remain off-site for a period of time. In addition, the plant includes treatment options to optimize water quality, such as ultraviolet disinfection at each filter effluent. Furthermore, the facility has been designed for future expansion and additions to the plant, such as facilities for ozonation and granular activated carbon adsorption. These and other plant improvements will reduce annual operating costs by $1.7 million compared to Denver Water's other treatment plants.
Energy efficiency and maximizing the use of renewable energy to power plant operations. The NTP was designed to maximize plant efficiency and reduce energy use. Operational energy reductions at this facility are just over 52% compared to industry norms. Furthermore, the NTP has maximized the use of renewable energy to power the plant. Hydropower generation using a 375kW Francis turbine was selected as the renewable energy source for the NTP, providing 70% of the NTP's energy needs. Space was allocated on site for an additional future hydroturbine and future solar generation.
Exceptional collaboration and teamwork leading to optimized project performance and significant capital construction savings. Denver Water utilized a multi-discipline approach to the procurement of design services, followed by design team integration to ensure efficiency and optimized performance. The Owner's Representative (OR), Jacobs teamed with CDM Smith, was tasked with integrating the delivery of the completed project, and collaboration efforts were maintained throughout the project. Denver Water also conducted a week-long 'Choosing by Advantages' (CBA) workshop to reexamine the scope of the project and its service goals for the collection, treatment, and distribution systems. As a result of the CBA, significant capital construction savings, to the tune of $80 million, were yielded by eliminating redundancies at the plant.
Protecting the environment. Surrounding waters and wetlands were protected through careful and deliberate site selection for the NTP. Also, the site is being restored post-construction with native, non-invasive grass, tree and shrub species that will require no fertilizers or pesticides after a brief establishment period.
PHOTOS/IMAGES: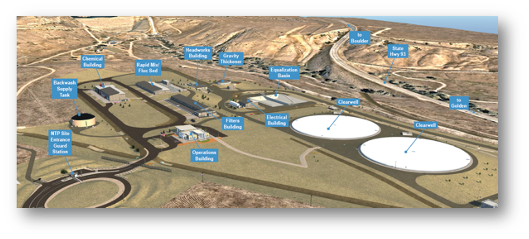 MEDIA CONTACTS:
Denver Water
Steve Snyder – Public Affairs
Phone 303-628-6700
Email Address steve.snyder@denverwater.org
Institute for Sustainable Infrastructure
Dyan Lee — Director of Marketing and Communications
lee@sustainableinfrastructure.org
About ISI and Envision®: Envision is the product of a joint collaboration between ISI, which was founded by three national engineering associations: American Society of Civil Engineers (ASCE), American Council of Engineering Companies (ACEC) and American Public Works Association (APWA), and the Zofnass Program for Sustainable Infrastructure at Harvard University Graduate School of Design. For more information, please visit www.sustainableinfrastructure.org.