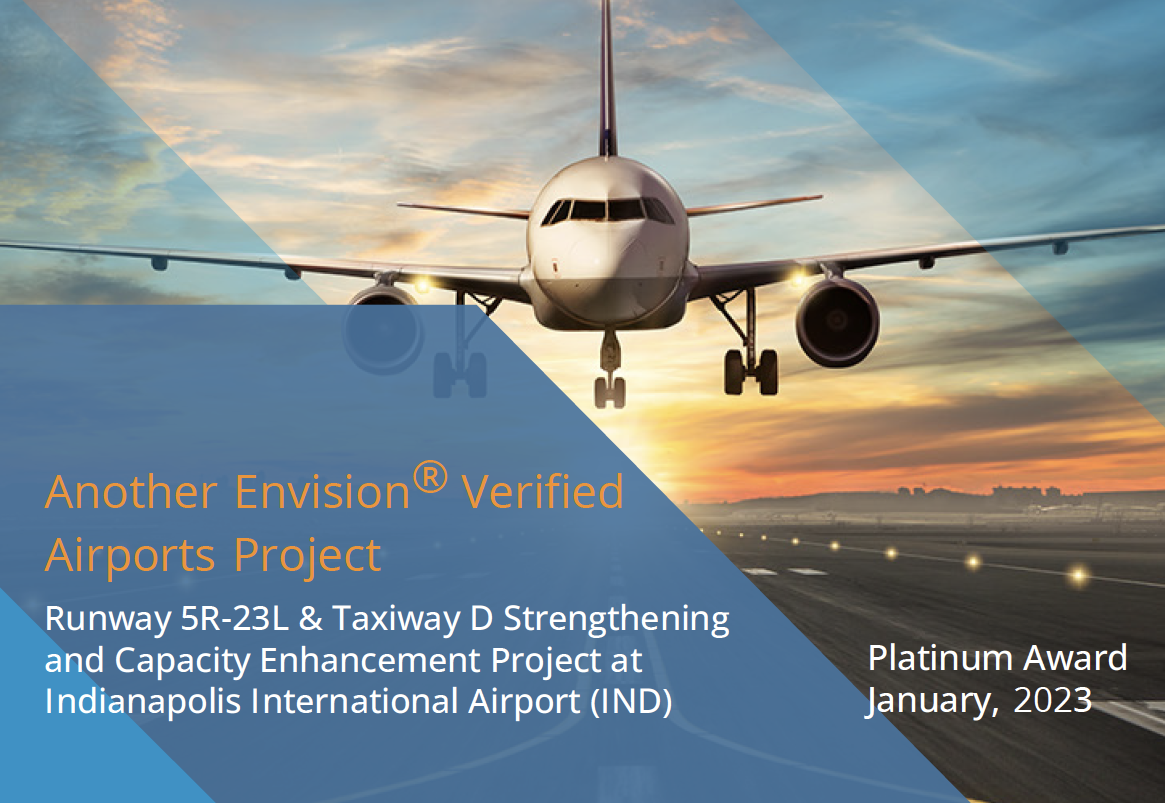 The Indianapolis Airport Authority (IAA) has earned an Envision Platinum award for their Runway 5R-23L & Taxiway D Strengthening and Capacity Enhancement Project at Indianapolis International Airport (IND).
IND is a medium hub primary commercial service facility located on approximately 7,700 acres seven miles southwest of downtown Indianapolis in Marion County, Indiana. Home to the second-largest FedEx Express Hub in the world, IND is a crucial link in the movement of freight across the globe. This Project centers on Runway 5R-23L and Taxiway D, critical facilities located on the airport's southeast side. Known as the "south parallel," Runway 5R-23L is a 150-foot-wide-by-10,000-foot-long runway. It supports most cargo operations at the airport, along with a significant amount of commercial airline traffic.
The project's Envision-verified achievements center on contributions to the local economy and workforce development, engagement with partners to specifically guide those contributions, use of a life-cycle economic analysis to support decision-making, renewable energy measures, and novel uses of technology to reduce carbon emissions.
"The Runway 5R-23L and Taxiway D Reconstruction exemplifies the Indianapolis Airport Authority's commitment to meeting our operational needs without compromising the natural environment," said Mario Rodriguez, IAA executive director. "From day one, we have kept the community front of mind and worked with a diverse set of individuals to deliver a meaningful project that emphasizes the airport's public value to our stakeholders, passengers, and community."

"The Indy airport is committed to sustainable and resilient development, maintenance, and operations," said Jarod Klaas, IAA senior director of planning and development. "We accomplish this with the help of our team members, project partners, and the support and guidance of the Federal Aviation Administration."

"This project has pushed the boundaries of what sustainability means for airport infrastructure," said Todd Cavender, IAA director of environment and sustainability. "Our focus on public value enabled us to think creatively and work with industry partners to maximize environmental, social, and economic outcomes for all involved."

"We are pleased to announce an Envision Platinum Award for Indianapolis International Airport's Runway 5R-23L & Taxiway D Strengthening and Capacity Enhancement Project." said Melissa Peneycad, ISI managing director. "The project team recognized the potential for job creation with the project but went much further, collaborating with local partners to address opportunity gaps and proposing an even stronger community impact. The project also builds in several environmental accomplishments, and notably, it represents the first-ever FAA-approved design for an airfield project using carbon capture technology."
https://sustainableinfrastructure.org/wp-content/uploads/2023/01/Another-Envision-verified-airports-project.png
803
1165
Conrad McCallum
https://sustainableinfrastructure.org/wp-content/uploads/2023/01/ISI-for-web.png
Conrad McCallum
2023-01-04 00:16:34
2023-04-13 08:20:39
'Pushing the Boundaries of What Sustainability Means for Airports Infrastructure'