In this post, we rerun an article by ISI first published on USGBC-LA's blog in August 2022. USGBC-LA is offering ISI Envision Training coming up on December 11th and 12th!

They're coming together, and not a minute too soon. Multiple drivers are forcing sustainability to the top of the agenda. Climate change, investor focus on ESG performance, broader public awareness pertaining to environmental degradation, and a renewed focus on equity in the built environment are part of a powerful confluence of factors pushing the architecture, engineering, and construction (AEC) sector to build sustainably as never before. Industry, governments, and academia have responded with frameworks and rating systems that make it possible to plan, execute, and evaluate more sustainable projects. Also, many of these frameworks offer excellent training and credentialing opportunities. This makes it likely that more than one rating system will become part of any project's DNA, either at its outset or at a later stage of its development.
When this happens, sometimes the tendency is to see different evaluation methodologies as "jockeying for position," supported by their (credentialed) advocates. But in our experience with the Envision® framework & rating system at the Institute for Sustainable Infrastructure (ISI), the rating systems are compatible and NOT in conflict. In every case, a highly coordinated team with expertise apply methodology with similar sustainability end-goals and it's the specific context of the project that has called for their application. Even more importantly, the use of more than one rating system on a project is a story of co-benefits. For illustration, here are three examples:
In New York, LaGuardia Airport's Terminal B met specific sustainability benchmarks for energy efficiency, water conservation, site selection, material selection, and waste reduction to become the first airport terminal to achieve LEED Gold under more stringent LEED v4 requirements in July 2021. Less than two years earlier, in August 2019, the project had become the first to achieve Envision Platinum. The project team used the framework to improve resiliency, plan for long-term monitoring and maintenance, and quantify the economic, social, and environmental benefits of this project.
The Kansas City Streetcar was awarded Envision Platinum in 2016 after incorporating additional sustainability features throughout its planning and design. These were evident in the physical design and the strategy adopted for sustainable growth, economic development and long-term management of stakeholder processes and community relationship-building. LEED Gold was awarded in that same year in recognition of several achievements, including that 47% of the maintenance facility was made of recycled materials and nearly 90% of construction waste was diverted from landfill. The site incorporated innovative energy-saving methods covering sun-shading devices, LED light fixtures, and daylight sensors.
At the San Diego International Airport, the Terminal 2 Parking Plaza received Parksmart Gold in early 2019. It integrated natural light into the parking facility's design, enhancing energy efficiency and elevating the user experience. Later that year (April 2019), this project was also awarded Envision Gold for improving mobility and access, using renewable energy, and managing stormwater runoff.
As for the Los Angeles area, it's worth noting that L.A. is currently a hive of sustainability activity, and sustainable infrastructure projects in particular. At the time of writing (December 2023), there are twenty Envision-verified projects in L.A., five that are currently under review, and another thirteen that have registered to pursue Envision verification. That's a total of 38 projects, several of which may be using sustainability rating systems in addition to Envision. For this reason, for those professionals trained on non-Envision credentials, getting the Envision Sustainability Professional (ENV SP) credential would be hugely beneficial.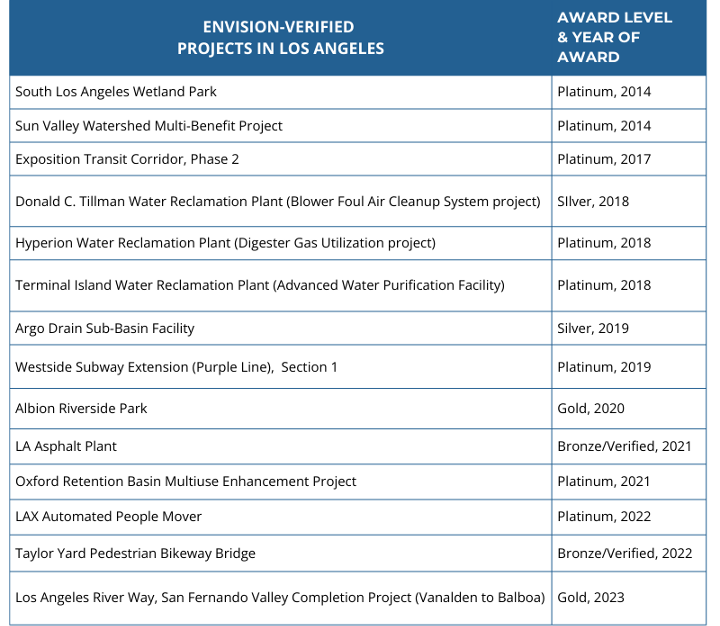 Fun fact: It's common to use Envision for airports and mass transit infrastructure projects containing both linear infrastructure and human-occupied, interior conditioned spaces (like the three project examples presented above).
It's important to bear in mind that Envision was specifically designed to help infrastructure stakeholders implement more sustainable projects and be suitable for use on all types of both public and private infrastructure. However, it is not intended to evaluate interior buildings with the primary purpose of human occupation, such as offices, schools, and single- and multi-family homes. Envision can and often is used with rating systems that address these types of spaces. Anyone can use Envision, and the sustainability skills learned by earning the ENV SP credential are transferrable, regardless of the type of project.
Just as owners, engineers, planners, designers, and constructors — wherever they are in the ACE sector — don't have to choose between one kind of rating system and another, nobody must choose one sustainability credential at the expense of another. When someone inquires about the ENV SP credential, we take the opportunity to emphasize the co-benefits of different rating systems that we have seen first-hand on several projects.
Sustainability frameworks and rating systems are more like fellow travelers in a common project we call sustainability. They're assessment tools suitable in different contexts and phases of a project and may be used to raise performance in specific areas. The bottom line: choosing one system does not have to be a case of either/or.
__________
See also:
Dunford, E. & K. Gillis. 2019. "Duel or Dual: Co-Benefits of LEED and Envision." Paper presented at the International Conference on Sustainable Infrastructure 2019: Leading Resilient Communities through the 21st Century, Los Angeles, Calif. ASCE, https://ascelibrary.org/doi/10.1061/9780784482650.050.
Yeeles, A., Sosalla-Bahr, K., Ninete, J., Wittmann, M., Jimenez, F. E., & Brittin, J. (2023). Social equity in sustainability certification systems for the built environment: understanding concepts, value, and practice implications. Environmental Research: Infrastructure and Sustainability, 3(1), 015001, https://iopscience.iop.org/article/10.1088/2634-4505/ac949d.
https://sustainableinfrastructure.org/wp-content/uploads/2023/12/SD-Airport.png
413
494
Conrad McCallum
https://sustainableinfrastructure.org/wp-content/uploads/2023/01/ISI-for-web.png
Conrad McCallum
2023-12-01 18:13:31
2023-12-04 21:00:07
Are you Limiting Yourself to One Sustainability Rating System (and Skillset)?